At the recent World Expeditions' Responsible Travel Symposium in Toronto, IIPT Founder and President, Louis D'Amore announced the IIPT/Skal International "Travel for Peace Campaign" and World Expeditions as the first charter member.

Louis D'Amore presenting IIPT Plaque with Credo of the Peaceful Traveler and image of the Global Family to Nathalie Gauthier, World Expeditions North American manager. Also in the photo: Jeremy Campbell, Intuitive Expeditions on the left; Donna Lawrence, World Expeditions; sustainability advocate, to the right of Mr. D'Amore; Kevin MacDonald, University of Toronto and Melissa Matlow, World Animal Protection.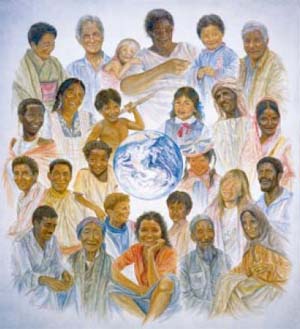 The IIPT/Skal International Travel for Peace Campaign will invite all Travel Agents, Tour Operators, Hotel Companies, Airlines, Cruise Lines and Travel Publications to become members of the campaign and join in the movement to encourage travelers around the world to be Ambassadors for Peace by practicing the IIPT Credo of the Peaceful Traveler and the travel ethic inherent in the belief that we are "One Earth One Family."
Members will be asked to distribute the copyrighted IIPT Credo of the Peaceful Traveler along with the iconic "Portrait of the Global Family" by renown artist Padre Johnson.
The program aim is to create awareness among all travelers that the privilege of traveling provides them with a unique opportunity to learn more about our common home – planet earth, the wonder of its natural beauty, its many diverse peoples, cultures and heritage – and in the process to foster mutual respect, understanding and appreciation with each person they encounter.
Collaborating with IIPT and Skål International in designing an interactive website will be Mr. Prakash Sikchi, Co-founder of Inspirock and Jeff Crist, Managing Partner, Crist Consulting Group. The website will be a place where Travelers for Peace can share their stories and interact with one another.